Submitted by
GracieRoberts364
on Fri, 03/03/2023 - 12:22pm
Friday, March 3, 2023 -

6:00pm

to

7:00pm
To celebrate Main Street Delaware's March for Art First Friday, local author/illustrator Becky Gehrisch is visiting our shop! She will read and discuss her adorable picture book about what happens when farm dogs are left alone while the farmer is away! After reading the book, she'll talk about how she incorporated famous paintings into her book. She will then perform a live drawing demonstration!
Escape to Play is available in-store now and at the event.
This event is free and open to folks of all ages with no registration required!
Check out the event on Facebook here.
Books: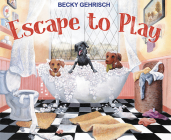 $19.99

ISBN: 9781954376007
Availability: Usually Ships in 1-5 Days
Published: Bookling Media LLC - August 14th, 2021
"A humorous and entertaining canine tale." — Kirkus Reviews What could go wrong when three mischievous dogs slip out before dawn to explore the farm? Follow the pups as they make a mess in every new place they go.
---